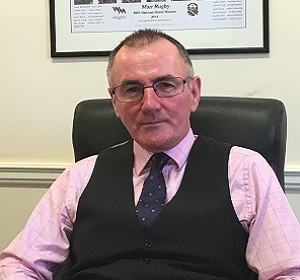 Glenn is a proud Ayrshire man, attending school in Kilwinning and Irvine before attending Glasgow University .He initially sailed through French , German and English Literature before deciding that the likely prospect of becoming a teacher was not for him and changing course to undertake a Law Degree.
As the son of a police officer this seemed a natural choice and it was proved beyond reasonable doubt when he graduated in due course with an Honours Degree in Public Law. After adding his Diploma in Legal Practice to his armoury he undertook his traineeship in Ayr with a firm specialising in Criminal Law and has worked in the town ever since.
Within months of completing his traineeship he was offered a partnership with another local Ayr firm and became an equity partner at the age of 25. After ten years heading up the Criminal Law Department in that firm he thereafter had the opportunity of teaming up with his professional colleagues and great pals Colin Adam and Iain McLennan in the firm which became McLennan Adam Davis. The rest, as they say, is history as the firm went from strength to strength with very careful and key acquisitions and recruitment of top quality solicitors with similar outlooks. Glenn's experience in the field of Criminal Law is difficult to match having conducted countless trials and Jury trials over the years. His robust and combative cross examination technique has demolished the confidence and testimony of many a Crown witness over the years, whilst his pleas in mitigation can melt the hardest of Sheriff's hearts. He has also had the privilege of serving Dean of Ayr Faculty of Solicitors between November 2013 and November 2014.
In his spare time Glenn has an armchair interest in the fortunes of Kilmarnock FC but his main passion lies in the ever rising fortunes of Marr Rugby in Troon where he holds the position of Commercial and Sponsorship manager. He lives in Troon and is married with three grown up daughters and dotes on his ageing and much beloved Tibetan Terrier Patsy.